Have a list of app and widget recommendations for Android.
Tools
3g Watchdog: Very handy for keeping an eye on data usage. You can set the times (just in case your billing cycle doesn't start on the 1st of each month) and put a widget on your home screen so that you can easily see what percentage you've hit so far.
Addons Detector: Useful in case you're getting push advert notifications in your notification bar and want to know what app is causing it. Also, to make sure you've not got anything dodgy running.
Advanced Task Killer: Battery running low? This will kill all apps you tell it to. Comes with a handy widget you can put on your home screen to kill them with one touch.
Battery Widget Reborn: Love my widgets, I do. Shows what percentage of battery you have left - also looks good.
My Data Manager: Mobile internet usage going up and up? Want to know which apps are responsible? Boom.
Wifi Toggle Widget: Too lazy to keep faffing about in your settings to turn the wifi on and off? Use this, and one touch will toggle the wifi state. Another widget to add to your home screen.
Other Stuff
Airdroid: I keep my phone charger and cable in the bedroom. My laptop, with all my music, is in the living room. Because I'm lazy, this lets you connect phone to PC as long as both are on the same network. Handy for file transfers.
Chrome: If you use this on your PC you need it on your phone.
Fetchnotes: Good note writing application. I use it because I'm old and my memory's abysmal.
Google Reader: If you use this on your browser, this'll let you keep up with your RSS subscriptions on the go. If you don't, then start using it. Now.
IMDb: The most useful website ever now has a mobile application that learns your preferences and tailors your searches accordingly.
Instagram: Because screw you, it got me taking pictures again.
Lampshade: TV Tropes on the go. Useful if you have time to kill.
Pocket: I used this when I was commuting - using the Chrome plugin, if I found interesting articles on the web, one click would download them to my phone and I could read them at any time, regardless of data connection or not.
Songpop: Because you don't play it enough.
SoundHound: Incredibly useful. Hear a song playing and can't identify it? Hit this app, and it'll look it up. Another thing I have on my home screen - one tap of the widget and it starts listening.
Stupid Zombies: Great point and shoot game to pass the time.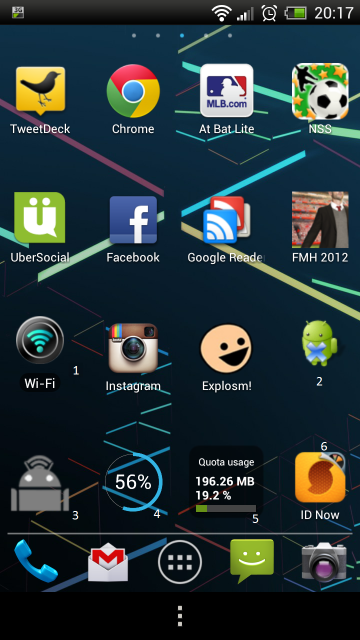 1. WiFi toggle widget
2. Advanced Task Killer widget
3. WiFi hotspot widget
4. Battery widget
5. 3g watchdog widget
6. SoundHound widget
The clock is One More Clock and shows the weather, temperature and remaining battery life as well as the time.
The launcher is Circle Launcher and has helped tidy things up. The launcher normally has a more obvious button to start it, but I've made the background transparent and the black wallpaper helps to hide the black text (it's visible if you look really hard). The launcher gives shortcuts to my most frequently used apps - games, maps, social networks.
The four widgets along the bottom I've covered before, but briefly (L-R) they're a Wifi toggle, task killer, mobile data usage and Soundhound to identify the song playing.
Wallpaper is from zedge.net