On Saturday it's the last proper game of the football season. (Don't worry, we've still got the World Cup.) After battling to win promotion last year Gillingham find themselves in danger of being relegated back down to that division at the end of this. Luckily, there are two teams below us who are in worse shape.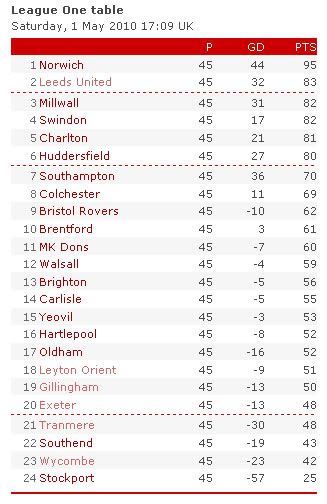 The dashed line between 20th (Exeter) and 21st (Tranmere) denotes the relegation spots - stay above the line and we're safe, drop below it and we're screwed. It'd be nice if we could stop the season one game early, but we can't. (It'd be even nicer if we could've stopped the season 45 games early after we beat Swindon 5-0 and went second in the table after one game, but still.)
On Saturday afternoon things all come to a head. We're away at Wycombe Wanderers (23rd). Tranmere have Stockport at home (24th) and Exeter host Huddersfield (6th).
Form guide
A lot of you might look at the table and think "oh, Wycombe are relegated, they have nothing to play for". Well, the same thing was said about Wrexham* ten years ago and look what happened. Also, out of 22 away games this season in the league we have got six draws and amassed 14 defeats. (That's no wins, if you think dolphins are gay sharks.) That includes a loss at Southend (relegated), Tranmere (could be relegated) and Exeter (could be relegated). Don't count on anything. Tranmere have (on paper) a fairly easy home game against the worst team in the league. Exeter's opponents, however, are gunning for a win and a good spot in the promotion shake up.
Permutations
If Gillingham win: it doesn't matter what Exeter and Tranmere do, we're safe and one of the others go down.
If Gillingham draw: we're probably safe, as long as Tranmere don't win by 16 goals or more. (For the record, their biggest league win ever was 13-4, so they'd have to break that record.) Even so if Exeter only lose or draw they'd go down instead, not us.
If Gillingham lose: and Tranmere and Exeter both fail to win (i.e. draw or lose) then we stay up. It'll be a shitty end to the season, but we'll survive. If we lose and only one of Tranmere or Exeter wins (the other drawing or losing) then the other will go down before us.
If Gillingham lose: and Tranmere and Exeter both win, then we're back in League 2 next season and James has a grumpy evening.
So that's it. Keep an eye out
here
for the Live Text link on Saturday afternoon if you're so inclined. I'm spending £33 on tickets and travel, plus extra on food, drink, booze etc so I hope it's all worth it. I've never seen Gillingham win an away game before though, so I'm not sure...
*Ten years ago we were in the same league but fighting to leave it the other way, through promotion, to the league above, which we'd never done before. With one game left all we had to do was win away at Wrexham and we'd be promoted automatically. We lost. Luckily we managed to get promotion via the playoffs and a last-minute-of-extra-time winner at Wembley, but still. Mention the word "Wrexham" to a Gills fan and watch him come out in cold sweats.
Postscript: Typical Gillingham, we went and lost 3-0. It was an uninspiring performance, only two players actually looked interested, and our "star striker" managed to miss an open goal from a yard out at 1-0. We got relegated, and said striker moved to Norwich, where he scored the goal that took them into the Premiership. Such is life.